Columbia Book History Colloquium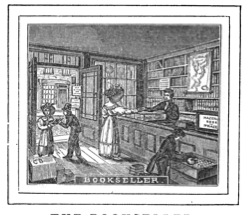 On Tuesday, March 25, 2014, I presented a talk entitled "Mapping the Bookstore in Nineteenth-Century New York City" at Columbia University's wonderful Book History Colloquium.
See the announcement and upcoming talks here.
Here is a brief opening excerpt, followed by my presentation slides (view on SlideShare here):
I'm here to talk about the nineteenth-century New York City bookstore, but to frame some of my concerns in this talk, I'd like to begin in the present day with a bookstore probably well-known by many of you–the East Village's beleagured but resilient St. Mark's Bookshop. Facing eviction over rising rents in the fall of 2011, the bookstore rallied its supporters and earned a rent reduction from landlord Cooper Union. Defenses of the bookstore were plenty and passionate, and they focused on the value of the physical space of the bookstore to ideals of urban life and community, painting the bookstore as a last bastion of local character and identity. Terry McCoy, owner of the Bookshop stressed: "I want to make the point that we're important to the community and that we're an important cultural institution." Writer Salman Rushdie added, "The St. Marks Bookshop is as much a New York institution as the Cooper Union is. I urge you not to make this irreversible cultural mistake." And an online petition urged supporters to "Sign it if you're sick of watching New York City's cultural touchstones go down the toilet day after day."

Cultural touchstone. New York Institution. Cultural institution. This is the rhetoric most often invoked in defenses of the brick-and-mortar store. As always, individuals have a variety of options other than the physical bookstore for obtaining reading material. What is at stake isn't whether we're reading or even what we're reading, but whether specific ideals of urban community and experience and local neighborhood identities enshrined in the independent bookstore are under attack. It is this cultural value assigned the physical space of the bookstore that most interests me—a structural ambivalence in which profit is calculated by cultural good rather than by number of books sold.  What is it, then, about the physical bookstore that is at once stubbornly local—grounded in communities and integrated into individual experience—and also grandly abstract—a symbol of communal and cultural values? How did the bookstore-as-ideal come to be special–separated from its mundane retail functions and inspiring energetic advocacy and philanthropy (if not always more actual book-buying)? How, in short, did the bookstore become not simply a store, but rather a cultural institution?

The American dedicated retail bookstore was a nineteenth-century creation, largely after 1830, in a confluence of technological innovation, economic expansion, trade specialization, and American literary growth. As earlier in the century, booksellers were often also publishers in some form, and many bookstores dealt in both wholesale and retail. But if there's one thing I want to emphasize in this talk, it is this: the years from 1820 to 1860 mark a historical period in which the forms and functions of a retail bookstore are emerging, accompanied by all the experimentation, uncertainty, and diversity that process entails.